Important Note: Before you can use TrackPack, you must have already made at least one Track using TrackStar. The e-mail address and password that you used to make your Track will be used to create your TrackPack account.

We strongly recommend that you PRINT these instructions before beginning to use TrackPack.




TrackPack Button for Internet Explorer


Step 1: Prepare your Browser
A. Make sure your Links (or Favorites) toolbar is showing. If it isn't showing, go to the View > Toolbars menu and select Links (or Favorites).

B. To move or resize the Links (or Favorites) toolbar, click and hold the word Links (or Favorites). Then drag it until the toolbar appears how you want it.

C. To remove any unwanted buttons already in your Links (or Favorites) toolbar, right mouse click (or click and hold for Macs) on the button and select Delete.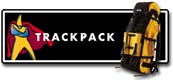 TrackPack


Step 2: Drag and Drop the TrackPack Link
A. Place your mouse pointer on the TrackPack link above.

B. Press down the left mouse button (on Macs, press the mouse button) and hold.

C. Drag to the Links toolbar.

D. Find an open position on the Links toolbar (in an open position, the mouse pointer may turn into an insertion cursor or arrow).

E. Release the mouse to place the button in your toolbar.

F. TrackPack is a safe link. Click "Yes" if your browser asks to confirm the addition of a link that "may not be safe".



Congratulations, you have just completed the installation of the TrackPack button!
Collecting sites in your TrackPack
(Internet Explorer on PC or Mac, Netscape on PC, or Netscape version less than 6.0 on Mac)
Surf the web or search for information.
Locate a web page you would like to use in a Track.
Click on the TrackPack icon or link in your browser's Links, Favorites, or Personal toolbar.
A window will open and you will need to login with the e-mail and password you use in TrackStar. Click Login.
You will see a window with the title of the site and its URL already in place. Add an annotation. Then click Add. This site will be added to your TrackPack and will be available whenever you make or edit Tracks.
If you are finished using your TrackPack, click the Close Window link. If you would like to organize or edit the links in your TrackPack, click the Manage TrackPack link.
Important Note: If you use Netscape on a Macintosh (except for Netscape 6.0), the TrackPack site collector does not work as described above. When you want to save a site in your TrackPack, click on the TrackPack icon or link in your browser's Personal toolbar. You will see it working and the only thing that will change is that the URL will be replaced with some javascript in the Location toolbar.

Use your mouse to put the cursor into the Location text field by clicking the mouse over it, then push Return on your keyboard. You will then be able to login and enter an annotation for the first site. Each time you wish to save an additional site in TrackPack, you must select the URL in the location bar so that it is highlighted, then click Return on the keyboard.

Go to TrackStar at http://trackstar.4teachers.org/
Click the Login to Make or Edit A Track link.
Login with your e-mail and TrackStar password.
Click Manage My Tracks.
Click Edit next to the name of the Track to which you wish to add sites (e.g., if I want to add sites to my Ancient Greece Track, I would click the Edit option next to the name Ancient Greece).
Make any changes you wish on the first page of the Track, then click Next.
Click on the Add link icon next to the link that you would like to place URL from your TrackPack in.
This will open your TrackPack. Click the Add to Track icon next to the site in your TrackPack that you like to use in your Track.
You will be taken back to your TrackPack and can then see that the link has been added.
When you have added all the sites you want to your Track, scroll to the bottom of the TrackStar window and click the Save button.
Deleting Items from your TrackPack and Closing the TrackPack Window
To delete sites from your TrackPack, go to your My Account page, and click on the Manage link under the My TrackPack section.
Next to each site in your TrackPack there is a Delete button looks like this .
You can only delete one site at a time, so repeate above steps until you are finished.

Reminder: Whenever you are done with TrackStar or TrackPack, please be sure that you log out of your account.